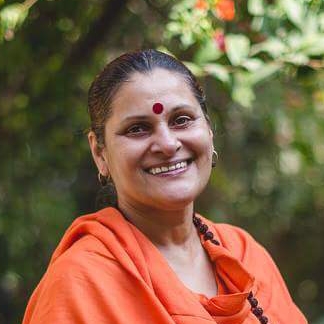 A mystic Himalayan Master, a gifted yogini, Maa is the founder of the Ci Plus (Cosmic Intelligence +) Evolutionary Path, Mokshspata divination, and the Gyaan Cowries divination. Maa belongs to an old tantric tradition in the Ganapatya faith. She is a Healer at heart, a gifted yogini , a vedic astrologer, a psychic reader, and a specialist of Life Force Energy. With more than three and a half decades into her blissful journey, she has transformed as a beacon to countless people. Her efforts hold high appreciation from people belonging to various spheres & walks of life. Maa has conducted Workshops through India and abroad; she now takes personal processes and transforming retreats for seekers. Having mastered various applied versions of the healing streams that benefit people; 'Energy' is her core pursuit.
Maa lives in Gular, on the outskirts of Rishikesh. KIRTI HERMITAGE , her ashram, is on the banks of the holy Ganga.
She conducts these courses on Ancient Wisdom, and initiates seekers on a suitable spiritual path. She is invited as a speaker and transformation coach at international festivals and events. People from all parts of the world come to learn different forms of Healing, divination, and a string of Indian ,western and Zen practices at her center. She has been conducting Satsangs, Training Workshops, on Self-attainment, Self-Healing & Meditation, guiding people to recognize & optimize their potential.

She believes that all teaching is a revealing, all becoming is an unfolding. Self-attainment is the secret; self-knowledge and an increasing consciousness are the means and the process.